---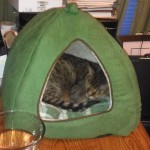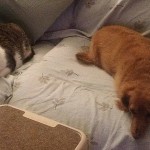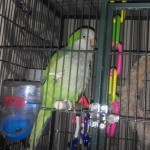 Our kids absolutely love Sally and so do we. Sally takes the worry out of leaving our kids for an evening or a weekend. She has done overnight stays for us, as well due to our diabetic cat needing insulin shots and our older dogs needing extra trips outside during the night. She texts us with pictures and updates and keeps us advised with what's happening while we are away, which keeps us at ease. We would highly recommend Mustang Sally Horse and Pet Sitting to anyone looking for a skilled animal sitter who truly cares about those she is caring for.
Heidi – Island Lake, IL
---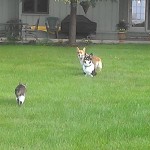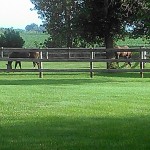 Sally Kazanis cared for my 2 dogs and horses while I was away on vacation. I felt very comfortable with her services. It was so nice to get a text and picture of the gang every day looking happy and healthy. She really takes the time to get to know all the animals and their needs. I would recommend her services to any of my friends and family who need their treasured pets cared for.
Regine F.
Woodstock
---

Sally Kazanis of Sally's Pet Sitting has simultaneously provided pet and house sitting services for me on three occasions in the last two months. I can recommend her very highly and have referred several of my friends to her. I find Sally to be very knowledgeable, trustworthy, competent in her skill set and compassionate. I believe she is also highly intuitive of our dogs' needs as well as mine: she would call me a minimum of twice daily while I was out of town to check in and let me know how everything was. I found this to be very comforting. She also welcomed my calls to her when I needed to check in. Also, Sally is not afraid to make detailed inquiries to make her service to you very personalized. The quality and value of her services compared to other pet sitting services is unparalleled. I highly endorse Sally's Pet Sitting and, specifically, Sally Kazanis.
-Tracy
---
Sally has helped me out with our Lusitano Farm here in Saint Charles! She is awesome! I had the honor of riding this past fall at the 2010 World Equestrian Games with our stallion Urano, and I was totally able to enjoy myself while I was there because I knew Sally had things under control at the farm! We are a breeding farm and I have 18 head of Lusitanos, along with two dogs, assorted birds….so daily chores are no small task! Sally would text me every morning and evening, to let me know that the critters were ok. So , I can tell you that your animals would be in very good hands
Lisa Diersen – Manager/Trainer – The Royal Lusitano St. Charles, Illinois
---

"Our mare Ursa Maior VO was feeling just a bit Bogged down so to speak….getting closer to her due date! So, we had Sally with Sally's Equine Massage Therapy come over and pay Ursa a visit! Ursa was so thankful to have a few of those baby related pains massaged away! And, a few days later El Dorado do Royal was born!" Now, Ursa wants another massage!!
Lisa Diersen – Manager/Trainer – The Royal Lusitano St. Charles, Illinois
---
"The trip to Lamplight Stables in Wayne, Illinois, was a long one for us – over seven hours from Kentucky. We arrived Thursday evening with classes scheduled for Friday and Saturday. Our gelding seemed stiff coming off the trailer, but warmed up out of it in a practice ride Thursday night. On Friday morning, his first Dressage test went very well, but on Friday afternoon he came out of the ring so stiff and sore that he could hardly walk and seemed to be tying up. We figure that our show was over, and wondered how he would manage a seven-hour trip home again. Fortunately, "Mustang Sally" Kazanis was at the horse show. We sought out her services. She examined our horse, found a seriously spasming muscle on his hip and massaged him both Friday afternoon, and again Saturday morning. Much to our surprise, he came out of his stall Saturday morning completely comfortable and sound. Was able to show again on Saturday (and got his highest test scores at the show) and made the trip home on Sunday with no further problems. There is no question in our minds that Sally's skills made all the difference in this situation. We recommend her highly."
Mary Ann Helland, Boaz KY
---



The gang misses you, when I came in Sunday through the garage they looked at me like you're back, where's Sally, and they kept going to the garage door looking for you. So there isn't a doubt in my mind they got the best of the best care…The text messages daily were so great, never once worried about them, knew from the 1st meeting they were in great hands…You have my business and anyone else I know looking for the best sitter ever:-).
Barb B.